Dear Visitors We will attend Hannover Messe 2013 during in 8 ĘC 12 April, 2013. Our Booth number is D24-16, Hall number is H20. Wish to have a meeting with you in the fair. Thanks.
6000 Series Bearing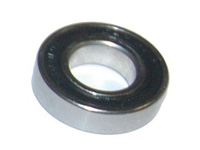 The
6000 Series Bearings
, extra light bearings are normally used in applications where space limitations are a primary consideration and shaft sizes are relatively large. The bearings have four types are available, open type (No shields), ZZ type (Metal shields), 2RS type (Contact rubber seals), 2RZ type (Non-contact rubber shields).
The usage: Motors, Power tools, Household appliances, Trailers, Casters, Agricultural equipment, Textile machinery, Printing Machinery, Automotive applications, Caravan wheel bearings.
Type

Dimension (mm)

Basic Load Rating (N)

Limiting Speed (rpm)

Weight (Kg)

d

D

B

r (min)

Dynamic

Static

Grease

Oil

5

14

5

0.2

1080

438

37000

44000

0.0035

6

17

6

0.3

1960

731

33000

40000

0.0060

7

19

6

0.3

1870

1058

32000

38000

0.0080

8

22

7

0.3

3310

1350

30000

35000

0.012

9

24

7

0.3

3330

1410

27000

33000

0.014

10

26

8

0.3

4550

1950

27000

32000

0.019

12

28

8

0.3

5110

2390

24000

28000

0.021

15

32

9

0.3

5590

2850

20000

24000

0.030

17

35

10

0.3

6000

3260

18000

22000

0.039

20

42

12

0.6

9380

5080

16000

19000

0.069

25

47

12

0.6

10070

5800

13000

16000

0.080

30

55

13

1.0

13130

8250

11000

13000

0.116

35

62

14

1.0

15950

10320

10000

12000

0.155

40

68

15

1.0

16820

11490

8000

10000

0.190

45

75

16

1.0

21080

13900

7200

8200

0.237

50

80

16

1.0

20670

15450

6400

7800

0.261

55

90

18

1.1

28300

21200

5700

7000

0.362

60

95

18

1.1

29500

23200

5000

6300

0.385
Down load:

6000 Series Bearing
,

6000 Series Bearing