Dear Visitors We will attend in 2014 CHINA INTERNATIONAL BEARING INDUSTRY EXHIBITION, taking place on 18 Sep, 2014 to 21 Sep, 2014, in SHANGHAI WORLD EXPO EXHIBITION & CONVENTION CENTER. Our Hall Number is: H2, Booth Number is: G128 Thanking you! Thank you.
Roller thrust bearing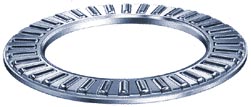 Roller thrust bearings like the one to the left can support very large thrust loads. They are often found in gear sets like car transmissions between gear sprockets, and between the housing and the rotating shafts. The helical gears used in most transmissions have angled teeth, this can causes a high thrust load that must be supported by this type of bearing.
Down load:

Roller thrust bearing
,

Roller thrust bearing