Dear Visitors We will attend in 2014 CHINA INTERNATIONAL BEARING INDUSTRY EXHIBITION, taking place on 18 Sep, 2014 to 21 Sep, 2014, in SHANGHAI WORLD EXPO EXHIBITION & CONVENTION CENTER. Our Hall Number is: H2, Booth Number is: G128 Thanking you! Thank you.
Taper roller bearing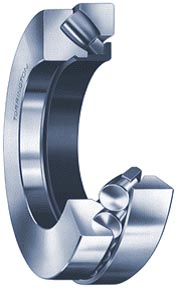 Tapered roller bearings are designed to support large radial and large thrust loads. These loads can take the form of constant loads or shock loads. Tapered roller bearings are used in many car hubs, where they are usually mounted in pairs facing opposite directions. This gives them the ability to take thrust loads in both directions. The cutaway taper roller on the left shows the specially designed tapered rollers and demonstrates their angular mounting which gives their dual load ability.
Down load:

Taper roller bearing
,

Taper roller bearing