Dear Visitors We will attend in 2014 CHINA INTERNATIONAL BEARING INDUSTRY EXHIBITION, taking place on 18 Sep, 2014 to 21 Sep, 2014, in SHANGHAI WORLD EXPO EXHIBITION & CONVENTION CENTER. Our Hall Number is: H2, Booth Number is: G128 Thanking you! Thank you.
Power tool bearing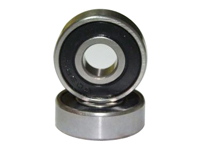 We are one of the qualified power bearing suppliers in China, producing high quality bearings used for power tools. Boasch type and normal type.
The bearing items include 607, 608, 609, 6000, 626, 629, 6201, 6301 ZZ type and 2RS type are available.
Type

Dimension (mm)

Basic Load Rating (N)

Limiting Speed (rpm)

Weight (Kg)

d

D

B

r (min)

Dynamic

Static

Grease

Oil

7

19

6

0.3

1870

1058

32000

38000

0.0080

8

22

7

0.3

3310

1350

30000

35000

0.012

9

24

7

0.3

3330

1410

27000

33000

0.014

10

26

8

0.3

4550

1950

27000

32000

0.019

6

19

6

0.3

2800

1058

32000

38000

0.0081

9

26

8

0.3

4550

1950

25000

31000

0.020

12

32

10

0.6

68000

3050

20000

24000

0.037

12

37

12

1.0

9750

4230

18000

22000

0.060
Down load:

Power tool bearing
,

Power tool bearing