Dear Visitors We will attend Hannover Messe 2013 during in 8 ĘC 12 April, 2013. Our Booth number is D24-16, Hall number is H20. Wish to have a meeting with you in the fair. Thanks.
6200 Series Bearing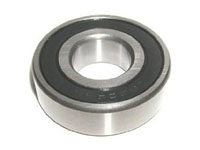 The
6200 Series
bearings
feature deep, honed raceways, resulting in a perfectly balanced bearing can be used in a wide range of applications witch need to carry both radial and axial loads. There have four types are available, OPEN type (No shields), ZZ type (Metal shields), 2RS type (Contact rubber seals), 2RZ (Non-contact rubber seals).
The usage: Motor, Power tools, House hold appliances, Washing machines motors, Clutch bearings, Trailers, Casters, Agricultural equipment, Textile machinery, Printing Machinery, Automotive applications, Caravan wheel bearings.
Type

Dimensions (mm)

Basic Load Rating (N)

Limiting Speed (rpm)

Weight (Kg)

d

D

B

r (min)

Dynamic

Static

Grease

Oil

5

16

5

0.3

1460

598

35000

42000

0.0048

6

19

6

0.3

2800

1058

32000

38000

0.0081

7

22

7

0.3

3310

1350

30000

35000

0.013

8

24

8

0.3

3330

1410

29000

34000

0.017

9

26

8

0.3

4550

1950

25000

31000

0.020

10

30

9

0.6

5110

2390

23000

28000

0.032

12

32

10

0.6

6800

3050

20000

24000

0.037

15

35

11

0.6

7600

3680

17000

21000

0.045

17

40

12

0.6

9580

4800

16000

19000

0.066

20

47

14

1.0

12830

6650

14000

16000

0.106

25

52

15

1.0

14020

7930

11000

13000

0.128

30

62

16

1.0

19470

11430

9000

11000

0.199

35

72

17

1.1

25700

15220

7800

9000

0.288

40

80

18

1.1

29520

18140

6700

8000

0.366

45

85

19

1.1

31660

20730

6800

7500

0.398

50

90

20

1.1

35060

23220

6100

6300

0.454

55

100

21

1.5

43500

29200

6400

7600

0.602

60

110

22

1.5

52500

36000

6000

7000

0.789
Down load:

6200 Series Bearing
,

6200 Series Bearing