Dear Visitors We will attend Hannover Messe 2013 during in 8 ĘC 12 April, 2013. Our Booth number is D24-16, Hall number is H20. Wish to have a meeting with you in the fair. Thanks.
6900 Series Bearing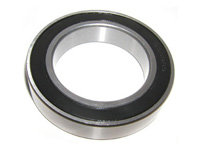 The
6900 series
bearings
are widely used in Motors, car engines, power tools, robots, air-conditioner motors, vacuum cleaner motors, oil fume motors, office equipments, fitness equipments, textile machinery and so on. We provide four types of bearings, OPEN type (No shields), ZZ type (Metal Shields), 2RS type (Contact rubber seals), 2RZ type (Non-contact rubber seals).
The usage: Motors, Dentist machines, Skate shoes, Skate board, Fishing wheel and so on.
Type

Dimension (mm)

Basic Load Rating (N)

Limiting Speed (rpm)

Weight (Kg)

d

D

B

r (min)

Dynamic

Static

Grease

Oil

5

13

4

0.2

1070

393

38000

45000

0.0024

6

15

5

0.2

1460

598

35000

42000

0.0038

7

17

5

0.3

1600

714

33000

39000

0.0052

8

19

6

0.3

2240

917

31000

37000

0.0073

9

20

6

0.3

2470

1088

29000

35000

0.0082

10

22

6

0.3

2690

1270

28000

34000

0.009

12

24

6

0.3

2890

1450

25000

30000

0.011

15

28

7

0.3

4320

2260

22000

26000

0.016

17

30

7

0.3

4310

2310

20000

24000

0.018

20

37

9

0.3

6380

3660

17000

21000

0.036

25

42

9

0.3

6650

4190

14000

17000

0.042

30

47

9

0.3

7200

5040

12000

15000

0.048

35

55

10

0.6

10370

7180

10000

13000

0.074

40

62

12

0.6

11270

8450

9000

11000

0.110

45

68

12

0.6

11580

9120

8000

9000

0.128

50

72

12

0.6

11830

9880

6900

8500

0.132

55

80

13

1.0

16000

13300

8000

9500

0.189

60

85

13

1.0

19400

16300

7500

9000

0.192
Down load:

6900 Series Bearing
,

6900 Series Bearing